Over the weekend some friends of mine gave me a gift, at which I teared up almost instantly when opening. It was the sweetest gift ever, and will be the perfect addition to hang in our home... and even use in our wedding decor/details! This is the custom-illustrated portrait of our little family, done by the super-talented Nan Lawson.
Do these three look familiar? That's Eric, me and of course Mr. Pancakes (the illustration was made before Lieu Lieu joined our family)! I am head-over-heels in LOVE with this drawing... it looks just like us! I love that I'm wearing my oft-donned color combo of yellow and gray in my dress with cardigan (I have this exact outfit at home), and Eric is in his Brewers jersey with his favorite 3/4 green shirt underneath! And did you catch the little S'more Eric is holding? I am gaga over that little detail... pulled straight out of his proposal. Another thing I love? Mr. Pancakes' little freckle is even included! Apparently my friend Megan, after seeing the first proof, sent it back saying P-Cakes just had to have that freckle added.... perfection!
My friends put so much thought and effort into coordinating this gift for us. I simply can't thank them enough... I can't wait to hang the print on our wall! Megan, Nicole and Abby... thank you SO much for this thoughtful gift! We both adore it.
I hadn't heard of Nan Lawson before receiving the gift, but I looked her up instantly and am in big puffy-paint-hearts LOVE with her work. She's awesome, adorable and a girl after my own pop culture heart... a huge Wes Anderson fan, just like me!
And, Miss Lawson REALLY won me over with this portrait of one my my heroes from current television: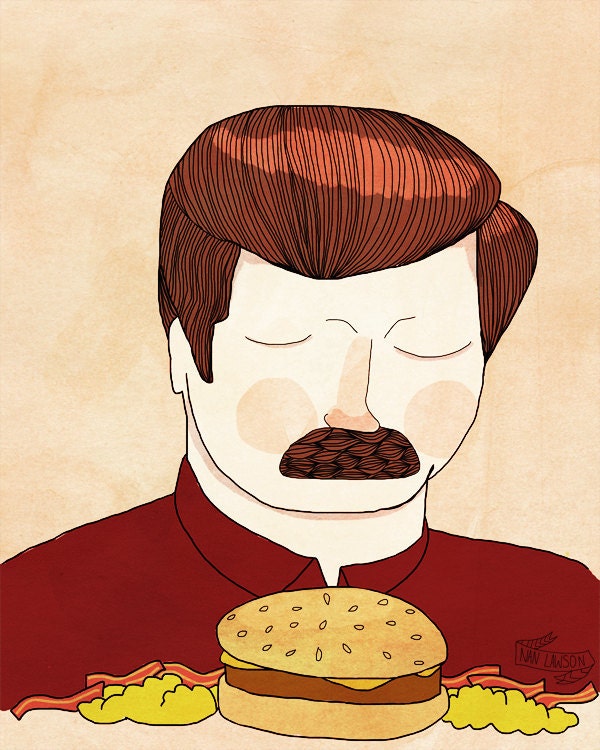 Ron Swanson! (Its title is "You Had Me At Meat Tornado." Hilarious.)
Nan Lawson had me at our custom illustration, but I really love all her work. She's such a talent!
Have you ever had a custom portrait drawn of your family? It's such a cute alternative to the traditional seated family photograph.